What the press writes about Eichenberger thread drives
Press Release - 2019 Hanover Fair
Cold-rolled reliability for the next generation of space shuttles.
Eichenberger moves things. All over the world and from 2020 in space, too
The Swiss thread specialist, is proving yet again that it has a solution for any customer request and performance requirements: three ballscrews will master the Dream Chaser's docking on the ISS in orbit.
Press Release Hanover Fair 2018
Cold-rolled reliability in the area of high voltage
Electricity is, figuratively speaking, the lifeblood of our modern society and economy. Without it, nothing is possible.
Circuit breakers are essential for the safe operation of our power supply. Among others, their task is to turn the entire output of a power plant on and off (in the gigawatt range) and to direct voltages up to 1,500 kV. The cold-rolled Carry ball screw from Burg (CH) plays an extremely important and responsible key part in this.
Press release for the MOTEK Fair in Stuttgart 2017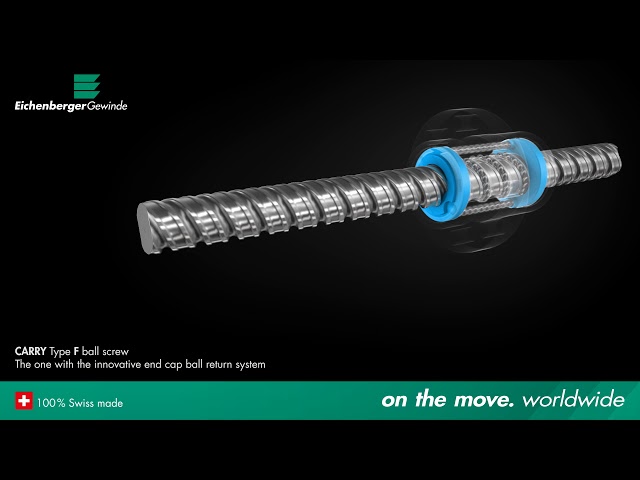 New ball screw - Lots of technology for little money
Developed for maximum performance - Designed for minimum price
Eichenberger has developed a new cold-rolled ball screw ball screw. Thanks to its ingenious, sophisticated ball return system, it sets unprecedented benchmarks in many ways. In particular, it will surprise you with its cost.
Press release for the MOTEK Fair in Stuttgart 2016
En route as a pioneer in thread technology

The original of the high-helix screw drive originated in the Swiss village of Burg in the late 1980s. The rolled high-helix lead screw Speedy, with a diameter of 10 mm and a pitch of 50 mm, came into being a quarter of a century ago.
Pressemitteilung zur offiziellen Festo Übernahme vom 1. April 2016
Festo kommt – Eichenberger Gewinde bleibt
Unter dem Titel "Day One" und im Rahmen eines festlichen Anlasses fand in Burg (CH) die offizielle Übergabe der Eichenberger Gewinde AG an die neue Eigentümerin, die Festo Gruppe, statt.
Press release for the Hanover trade fair 2016
Our first appearance at the fair as part of the Festo Group

Continued development for sliding door systems - cold-formed 20/80 aluminium special high-helix lead screws

The goal of technical progress is not only to achieve more but to do it better with new technologies and processes.
Electromechanical competence to be expanded
Festo AG takes over Eichenberger Group


Festo AG, a group of companies in the industrial automation sector headquartered in Esslingen am Neckar, Germany, is taking over two Swiss companies, Eichenberger Gewinde AG and Eichenberger Motion AG from Burg, as part of a succession arrangement. The transaction is still subject to approval under competition law.
Press release for the Hanover fair
Prospects with potential
Lightness with heavyweight
Aluminium lead screws
Development and deployment of new materials are the decisive factors for competitiveness.
Technical advancement and the strictest demands made of mechanics go hand-in-hand.
Press release for the MOTEK Fair in Stuttgart 2014
Sustainable willingness to innovate - even in-house
- One Piece Flow in assembly and logistics
- An amazing level of organisation comparable to that found in
ant colonies
Press release for the Hanover Fair 2014
Cold-formed aluminium lead screws: A groundbreaking idea works
Press release for the Hanover Fair 2013
Eichenberger Gewinde AG: 60 Jahre Eichenberger Gewinde AG

Der Name Eichenberger Gewinde ist heute ein Synonym für hochpräzise, gerollte Gewinde.
Press release for the Hanover Fair 2012
Eichenberger Gewinde AG: "Gewöhnlicher" Kugelgewindetrieb als Herausforderung für Geschäftsleitung und Technik.

Miniatisierung versus "Vergröberung"
Press release for the Hanover Fair 2011
Eichenberger Gewinde AG: Physik der Spindel-Selbsthemmung "überlistet"
Antrieb fällt auf, weil er nicht auffällt.